miEdge - Benefits
Sales Cloud
Actionable sales intelligence for millions of benefits leads.
Supercharge your marketing strategy with employee benefits profiles and insights gathered and interpolated from hundreds of data sources
Create an intelligent prospecting strategy, finding qualified leads based on the industry's largest variety of criteria
Easily engage with prospects by managing lead lists, receiving alerts for data changes and integrating into your existing tech stack
Features + Benefits
Designed to instantly identify better, more targeted leads to fuel growth for your business.
Next-level Discovery
Start conversations with the right people by identifying key decision-makers and using detailed knowledge about their businesses to engage with them in a new way.
Grow Into New Markets
Uncover valuable employee benefits insights on prospects in unfamiliar industries to expand your operations and access carrier and broker information to target certain prospects.
Streamline Prospecting and Lead Generation
Instantly access millions of leads and target the businesses you want based on advanced search functionality. Then, unlock strategic business insights and insurance profiles to boost sales operations.
Insightful Employee Benefits Data
Discover employee benefits prospecting data—all in one place. Find employers based on key business information, like eligible employees, commission fees, compliance issues and more.
Data Analytics and Customer Relationship Management (CRM) Integrations
Use advanced analytics to uncover market trends in all 50 states. Gain competitive intelligence for territory planning, market expansion and commission structure.
More Sales Cloud Solutions
Find new ways to grow your benefits business and retain existing clients. Boost customer satisfaction and set your agency apart in an increasingly competitive marketplace.
Grow your agency with actionable sales intelligence for millions of commercial leads, designed specifically for commercial insurance brokers.
In an increasingly competitive marketplace, find new leads and sales intelligence for millions of households to grow your business and retain existing clients.
Resources
miEdge for Employee Benefits Info Sheet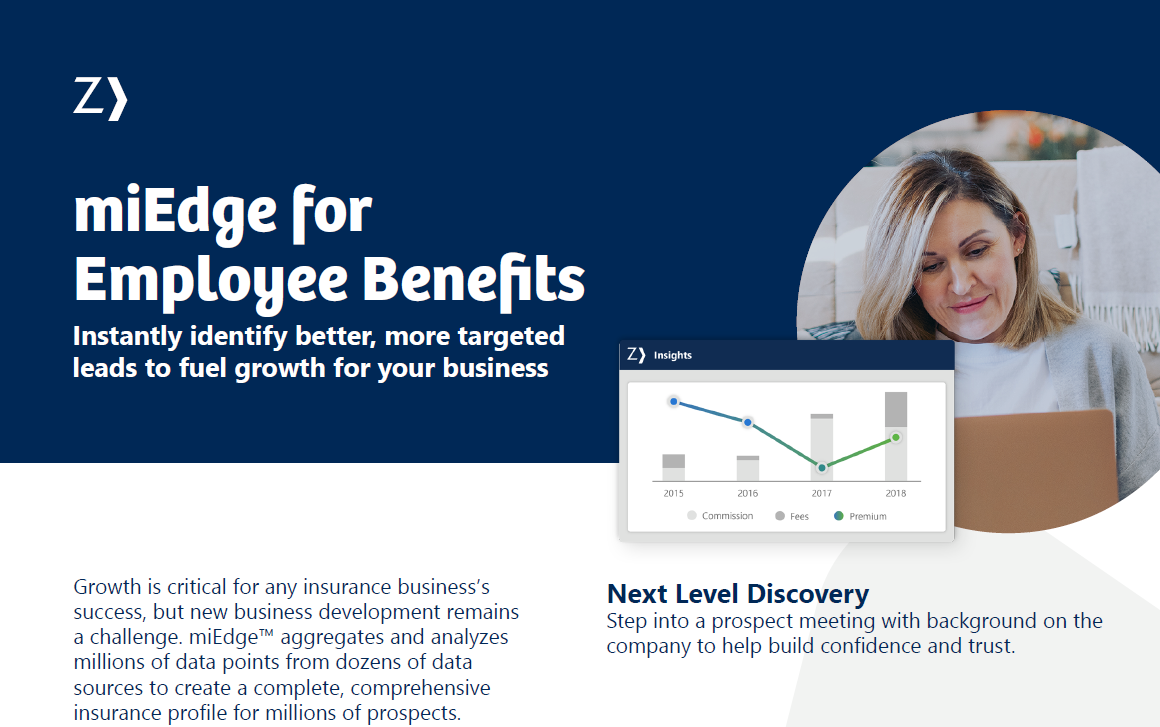 Purchase
Get access to miEdge Online
Ready to take the next step?
Speak with one of our revenue generation experts to learn ways you can increase productivity, achieve profitable growth, and delight your customers. Complete the form and we'll be in touch right away.