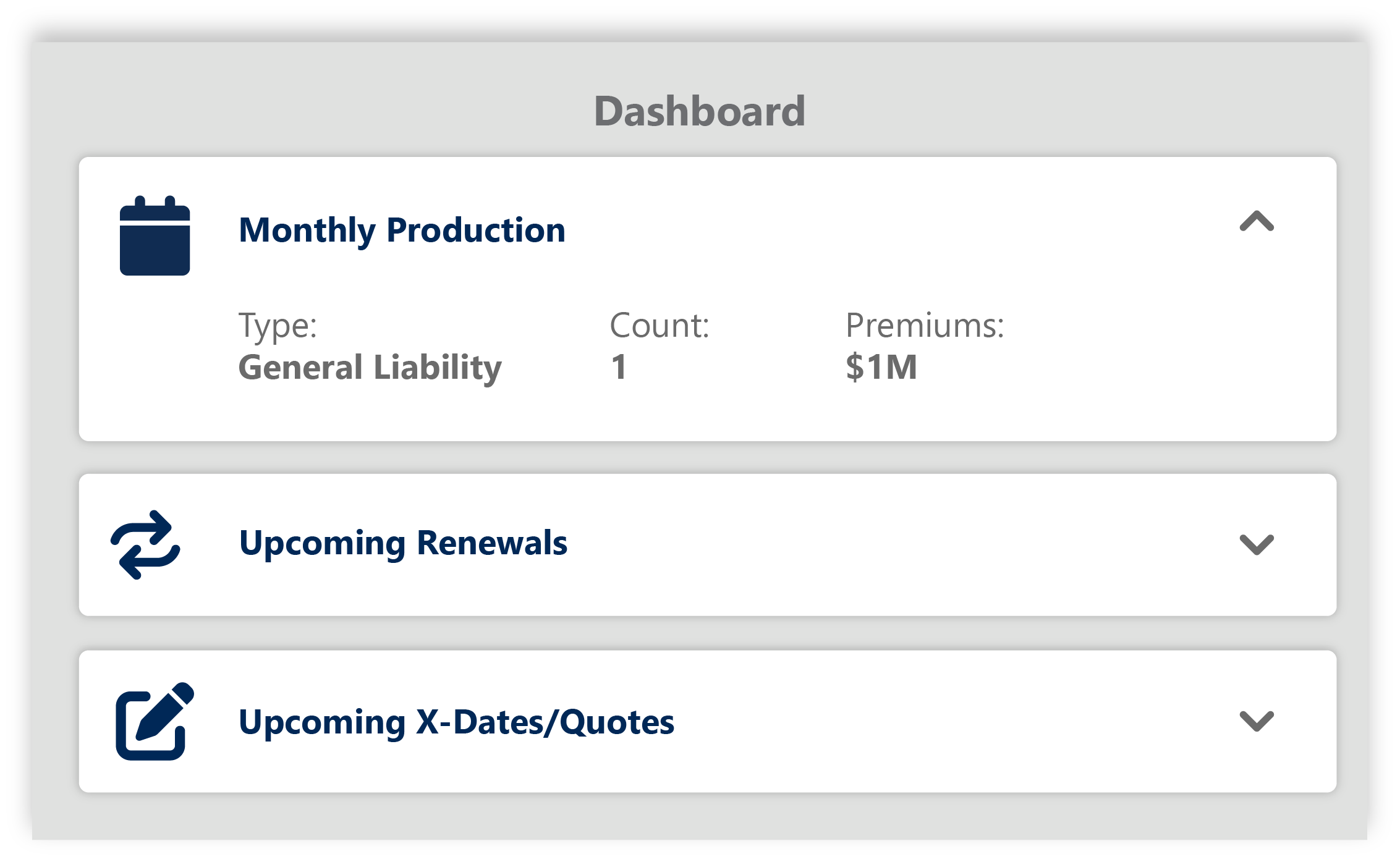 Partner Platform
Sales Cloud
Challenge the status quo and deliver more value.
Simplify how you manage large, complex commercial accounts
Utilize a modern technology platform that allows you to digitize your processes and provide better service to your clients
Identify opportunities for efficiency and increased productivity through centralized data and reporting
Features + Benefits
Manage Large and Complex Commercial Accounts
Fewer clicks and more information at your fingertips makes it easier to respond quickly to your clients with accurate information. These are some ways independent insurance leaders describe the value of Partner Platform's ability to effectively manage complex commercial clients.
Digitize Filing, Reduce Risk and Better Serve Clients
Quickly and easily attach information as well as retrieve key documents. You can auto-attach, drag and drop and customize how you organize document folders to find what you need for rapid client response time.
Increase Productivity and Accuracy in Accounting
Eliminate third-party software and dual-entry with built-in insurance trusted accounting. Client, policy and financial information are all organized in one system. Your agency will have real-time insights into key financial and performance data, enabling you to better serve your clients and more effectively grow your business.
Capture Crucial Information with Email Integration
Capturing email communications in your insurance agency management system is essential to avoid errors and omissions (E&O) issues and provide strong client service. Seamlessly integrated with Outlook, enable significant productivity improvements without any change in how you already work. Agencies leverage the auto-attach capability to ensure all client inbound and outbound email communications are captured in the system.
Generate Professional Proposals in Minutes
Leverage the power of Partner Platform's Microsoft Word integration to create professional personal and commercial proposals in minutes. Policy and submission information stored in the Partner Platform is flooded into pre-designed templates that are customized with your agency's logo and messaging. Use them for new business proposals or to conduct account reviews.
Easily Access Reporting Information
Produce reliable insights with the click of a button to manage your staff, business and clients. Gain valuable, real-time information on agency finances, client retention rates, new policy business growth and more—all without specialized knowledge.
More Sales Cloud Solutions
Find new ways to grow your benefits business and retain existing clients. Boost customer satisfaction and set your agency apart in an increasingly competitive marketplace.
Grow your agency with solutions designed specifically for commercial insurance brokers. Offer unique value-adds and strategies designed to establish your industry expertise and make you an indispensable partner.
In an increasingly competitive marketplace, find new ways to grow your business and retain existing clients. Drive efficiency through each step of the client lifecycle from generating new leads to renewal.
Ready to take the next step?
Speak with one of our revenue generation experts to learn ways you can increase productivity, achieve profitable growth, and delight your customers. Complete the form and we'll be in touch right away.